I never cared about the health of my hair until God blessed me with my daughters. At that point, I knew I wanted to know how to take care of their hair by doing trial and error on my hair until I got it right. I knew I had at least a year to know what products to use and not use by the time their hair's texture would change from "baby hair" into its true texture.
I stayed true to my
virgin hair extensions
and didn't really know or understand the texture of my hair. I started by ending my routine relaxers. I rarely saw my hair and always saw growth in between sew-ins. You know that "oh my gosh my hair grew" every time I unraveled my cornrows. Of course it was super dry and seemed impossible to manage. So I never learned how to style and take care of my own hair.
Natural hair pictures, videos, and tutorials have taken over the internet and social media. The short time I went natural in college, I had no inspiration to look to. Just my willpower to rock my hair without a relaxer. Now I can scroll through my Instagram feed and know I can style my hair no matter how short or coily it is.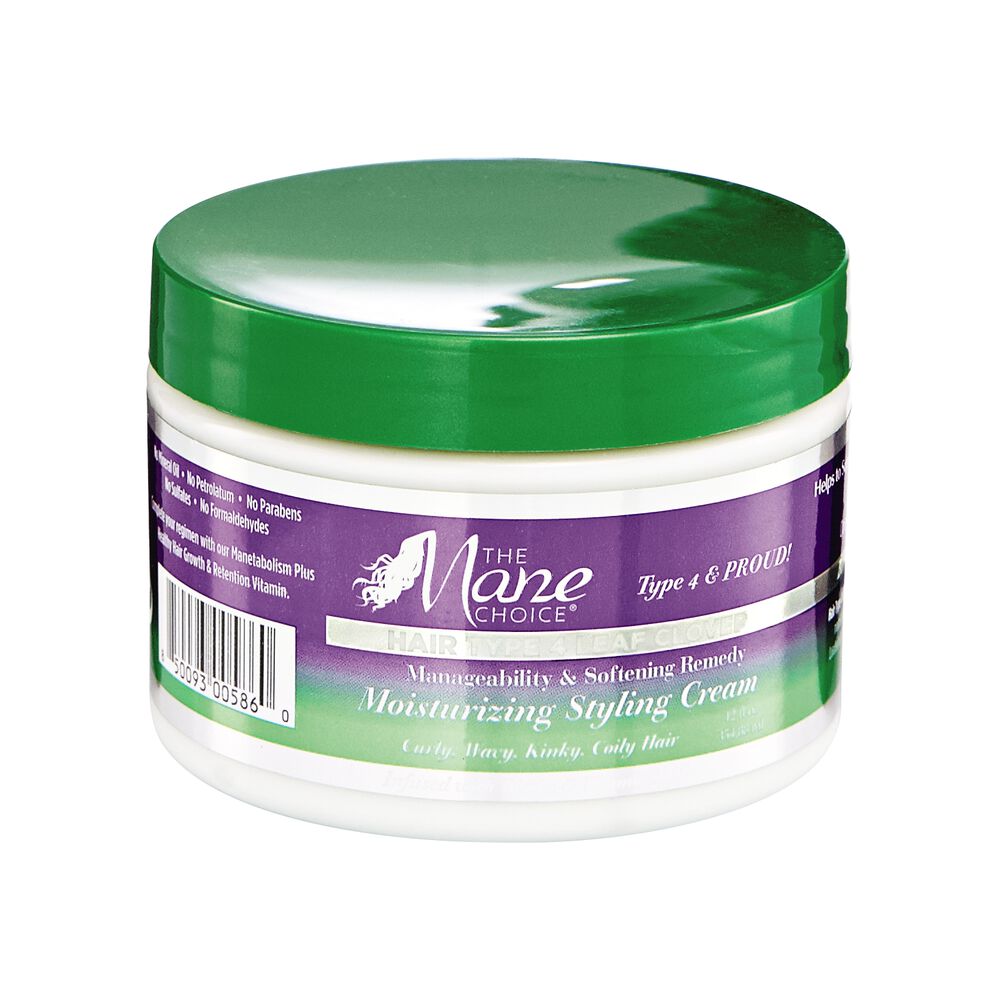 More importantly, after trying
The Mane Choice
, I know that having dry hair is a choice. I finally have the hair I always wanted-- manageable! And I couldn't be more excited! As I type, I'm waiting for my 2nd order of their Hair Type 4 Leaf Clover line. Months ago
Courtney Adeleye
, the CEO of
The Mane Choice
announced they were releasing a product line specifically for type 4 hair. I was so excited because the products I used did not last long in my hair. In the morning my hair would be defined and soft and by high afternoon my hair would be a dry, fluffy fro. I don't mind a big puff, but when I want to wear my curls I want them to stay. Before this point, I was following her for business inspiration (she's amazing!) and really didn't have high hopes of ever finding a product that would work for my hair. But I had to try her type 4 product line and I'm so glad I did!
Here's 10 Reason Why Type 4 Leaf Clover Is The Best Product Line I've Ever Used On My Type 4B Hair
1. It's thick and covers large sections of my hair
Other natural hair products I've used by other brands have been thin and loose. Previously I appreciated the light moisturized feeling on my hair, but ultimately my hair absorbed it fast and appeared dry before the end of the day. I would literally wash my hair and leave the conditioner in my hair and go to have moisturized hair all day long when I wanted. But then I didn't like leaving with wet hair so much.
The Moisturizing Styling Cream is thick and spreads through my hair so nice. My hair is not the thickest but it will grab ahold of any product I put in my hair. So I'm very heavy handed to saturate my hair and moisturize it. My hair absorbs it and by the time I'm finished shingling or brushing my hair with my Denman brush, there is no residue or product visible.

2. It smells sooo good
I'm really big on scents. It seems after having my 4th child, my sense of smell has heightened. I will refuse to buy a product because of the smell. The conditioner, remedy mask, daily leave-in spray and styling cream smell AMAZING! It's like a bath and body works treat for my hair. I love to smell good and to have my hair smelling fruity it's a treat. Something that's good for you doesn't always smell good. The best way to describe the scent is fruit + plant, so a tropical garden, which is a perfect combination for me because I love fruit and gardening lol. The scent is a perfect tell all of the ingredients in every product.
3. My hair absorbs it and becomes ultra moisturized
Sometimes products just coat my hair with a shine, but that shine quickly fades. After using the Hair Type 4 Leaf Clover Conditioner my hair feels super softs and glistens after rinsing the product completely from my hair. After towel drying my hair, I pull the Moisturizing Styling Cream through my hair and it's a wrap lol My hair is poppin' all day long.
4. It defines my curls like a gel
If you've ever watched my Instagram Stories you would've seen how I go through a large jar of Ecostyler gel quickly. I'm a huge fan because it does 2 important things for me. One of those things is it defines my hair so well. Turns my fro from a bush to curls. The Moisturizing Styling Cream does the same exact thing too! They really need to put 3 in 1 plus more on the label!

5. It slicks my hair down for maximum hold
The second thing the gel I mentioned previously does very well is hold and slick my hair down. To my surprise, the Moisturizing Styling Creme does it too! I was so shocked and excited because no when I shingle my hair I can smooth the sides of my hair into a style at the same time!
6. My defined curls last overnight
I'm the person that goes to sleep on my hair without an overnight protective style with twists or braids and wakes up with smashed hair, looking like a box haircut. Now my, when I wake up my hair is still stretched and all I need to do is spray my hair with Hair Type 4 Leaf Clover Leave-In Spray. It refreshes my hair and gives it its daily smell good scent. It's like a moisturizing perfume for my hair.
7. It lasts 2 months for 2 people
When I ran out of my daughter's hair products I used mines for her hair. Her hair type is 3B curls and it literally is a perfect match. Her curls last 4 days or more and curls up into the perfect ringlets. I'm literally in love with it. While this product is for type 4 hair, even with her hair, it reacts extremely well and it not overbearing.
After consistent use, I'm finally at the sides of my jar and am waiting for my refill and new products to be delivered.

8. My hair is growing
This is the first time I actually see growth. I've gone from baby puff to medium puff and I love it. I'm still waiting for a lot of damaged hair that has broken off from sew-ins to be restored and grow back. But I see the hair in the middle of my head with little to no damage is growing quicker than the sides of my hair.
9. My hair feels softer after using it for 2 months
It's summertime and there are days I do absolutely nothing to my hair. No products, nothing. Before my hair would be dry and stiff. Now my hair is soft and has body.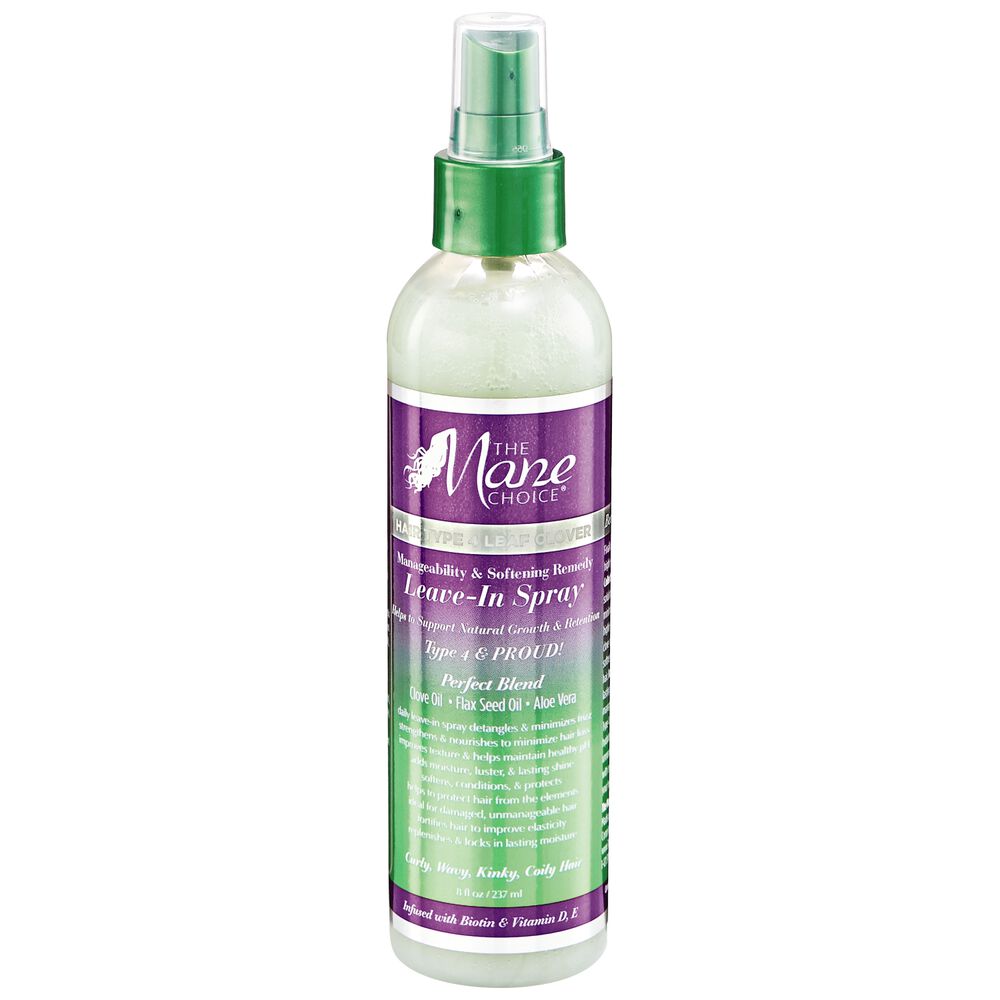 10. It clears eczema for 2 days or more
My 13-month-old daughter has eczema on the center of her scalp. To remove the dry flakes I shampoo her hair and while the shampoo is still on her scalp I gently brush or comb the flakes away. Daily, I apply virgin coconut oil. When I don't do these methods I use the Leave-In Spray and it immediately moisturizes her scalp and her scalp stays conditioned for at least 2 days. I was so excited when I saw this and love the product all the more.
If you have type 4 hair, type 3 hair or any type of curly hair that demands moisture, I HIGHLY recommend you try The Mane Choice Type 4 Leaf Clover Line. I've used over 4 natural hair brands and this is the first time I've had a lasting experience with soft, defined smell good hair!
Happy Hair Days 🤗